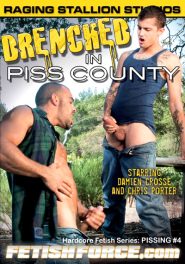 Drenched In Piss County
Starring Chris Porter, Damien Crosse, Kennedy Carter, Race Cooper
Updated

09-12-2010

|

Views

5054

|

Length 01:21:45
Drenched In Piss County - Related Scenes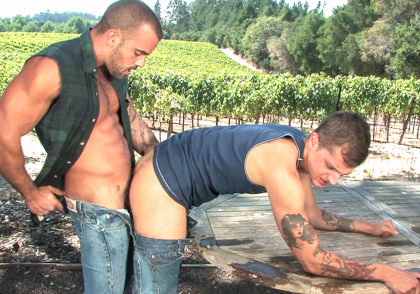 Learn More
Drenched In Piss County
The sun beats down on a parched vineyard in wine country. Overheated, Damien Crosse takes a break from plowing to unleash his swollen bladder. Working nearby, Chris Porter is more than willing to be Damien's receptacle. Chris drops eagerly to his knees, anticipating Damien's steady stream from his thick rock-hard cock. Damien soaks Chris' face and clothes, giving Porter liquid relief from the dry heat. Chris thirstily sucks the last drops from Damien's thick man-pipe, and continues to suck the cock as Damien spits in his face. Now well lubricated, Crosse begins fucking Porter's throat. Letting loose a full torrent coating Chris' throat. With Chris now ready to return the favor, the pigs exchange kneeling and standing positions. Chris covers Damien's face and mouth, dripping down to soak his hairy chiseled chest. Damien proceeds to chow down on Porter's cock. The two trade off, taking turns with each other until Damien takes charge and bends the work boy over a table. Spitting on his crack, Damien shoves his thick man-meat mercilessly into Porter's hole. Porter takes it, a mixture of pain and pleasure are reviled on his face, as he gets the fuck he's been waiting for. Damien picks up speed, and begins to power fuck the smaller stud. With an unrelenting stroke, Damien's tool digs deep on Chris' hole, as he pounds it harder and harder. Crosse then flips Porter over to fuck him missionary, but not before he unloads another round of wet pleasure, soaking Chris' body fully. Chris joins in, and releases his own river, soaking himself, now already glistening under the sunlight. Damien shoves his cock in yet again, and pounds Chris to orgasm. Still building to finish, Damien continues to fuck Chris suddenly pulling out his fuck tool, to shoot his thick white load over Chris' cum and stained shirt.
Updated on : 09-12-2010

|

Length : 20:17 min

|
Drenched In Piss County - Related Scenes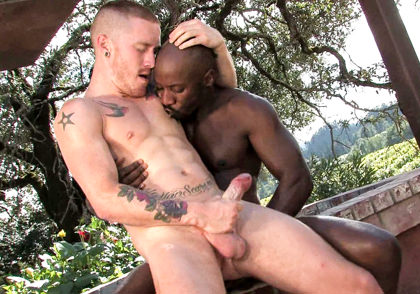 Learn More
Drenched In Piss County
Race Cooper cools off in a pool as vineyard worker Kennedy Carter finishes up his chores. Race comes out of the pool, with drops of water, streaming down his ripped abs. Kennedy needing some refreshment comes right up to Race and is ready to take the drink that Race offers. Kennedy goes down and begins to deep-throat Race's thick black cock, sucking up all that he can. Carter sucks wildly, as Race leans back and enjoys the vigorous blow job. Kennedy then flips Race over, so he can eat this rich full man ass. Ramming his tongue into Race's hole, Kennedy chews on Cooper's dark star. Standing up, he then releases his large pink uncut cock from his work pants; and proceeds to soak Race's muscular back and ass. Carter then shoves his cock into Race's drenched cheeks, plowing deeply, as his cock disappears into Race's hungry hole. Kennedy fucks Race steadily for a while, pounding his hole, until he needs to unleash again. Race crouches down, and takes Kennedy's stream all over his face and body. Soon focusing on sucking Kennedy's cock dry, Cooper hungrily tries to get every last drop. Race sucks it down fast, but his thirst seems unquenchable as he lifts Kennedy up, to squat on his face and begins to eat out his pink hole. Race shows he loves to rim, sending jolts of pleasure to Kennedy's hole, with ever lick and tongue thrust. Unable to contain himself anymore, Race needs to fuck that sweet hole. Race slides his thick black cock into the wet and open pinkness. Kennedy bent over now, takes it like a man, pushing back to receive more. Race fucks him for a while, but soon needs relief from the geyser pushing up from within. Race pulls out and releases a powerful fountain, flowing fully. Soaking Kennedy's back as well as into his mouth, Race drinks it all in. Kennedy comes to sit on Race's cock and rides it hard, making Kennedy's cock smack repeatedly against his belly. Kennedy fucks himself with Race's thick fuck pole, as he gyrates and grinds the black studs cock, deeper and deeper into his ass. Kennedy impales himself to orgasm, with Race then pulling out his cock and cumming all over Kennedy's chest. Not fully spent, Race shoots out one more stream to wash Kennedy's cum soaked torso.
Updated on : 09-12-2010

|

Length : 27:36 min

|
Drenched In Piss County - Related Scenes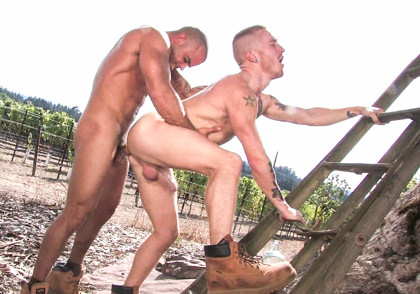 Learn More
Drenched In Piss County
Damien Cross sits underneath a tall oak tree enjoying a snack. He grabs a ripe peach and cuts it with his sharp pocketknife. Kennedy Carter enters the scene just as the juice of the peach drips off on Damien. Kennedy licks at the stream of nectar then devours the peach, while Damien sips red wine. The two begin sharing the wine, by passing it between their lips, giving into the attraction between them. Damien leans back against the tree and pulls out his thick uncut cock. Pointing it straight up towards the sky, he starts soaking himself, his work pants and torso. Kennedy bends down and takes the arching stream into his mouth, submerging his tongue in the hot liquid. After Damien's water fountain goes dry, Carter's thirst seems unquenched, and sucks his buddy's thick slab of beef hoping for more. Kennedy works his way up and down the shaft, getting Damien's cock lubricated with his saliva. Kennedy then licks Damien's torso and carves a path up to his mouth for a deep wet kiss. Crosse feeling even more thirst from the rich wine, bends over to take Kennedy's thick cock into his mouth. Damien sucks his buddy's cock, while Kennedy drinks from the jug once more carelessly spilling wine covering his torso and cock. Damien sucks the wine droplets from Kennedy's body, quickly returning to service his buddy's member. The two swap back and forth, sucking cock, and chugging from the jug. Each of them enjoying fully the pleasure of their vices. Kennedy gets up and lets out a stream that drenches Damien. Damien opens his mouth wide, and takes the seemingly endless stream in his mouth. Cross spits back at Kennedy as Kennedy keeps going. With Kennedy leaning against a wooden ladder, Damien plunges his cock up Kennedy's tight white ass. Damien has no mercy when it comes to fucking. He plows Kennedy's asshole deep, hard and fast as if rushing to finish the fields before the sun sets. He power fucks Carter's ass then pulls out to unleash another stream of glory that covers Kennedy's back and posterior. Damien remounts Kennedy and rides him some more sending shards of ecstasy up Carter's spine. Damien has the stamina of a well bread stallion, keeping a steady rhythm in his fucking. He pulls out occasionally to douse Kennedy with more of himself but quickly shoves his cock back in. He increases the velocity of his pounding until Kennedy can't take it anymore and shoots a huge cum-load all over his upper body. Excite by Kennedy's orgasm Damien fucks harder, then pulls out and shoots his man juice all over Kennedy's cum soaked belly. The two collapse in exhaustion after a long hard day in the fields, and the consumption of fruit and wine.
Updated on : 09-12-2010

|

Length : 33:52 min

|