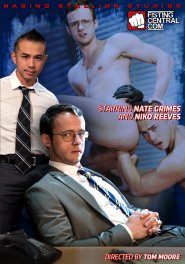 Nate and Niko
Starring Nate Grimes, Niko Reeves
Updated

03-15-2018

|

Views

1951

|

Length 00:49:00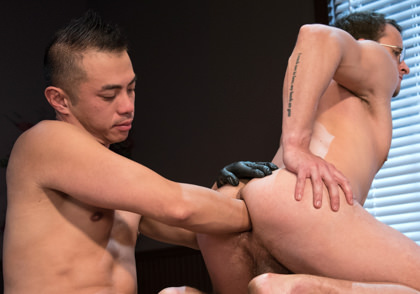 Learn More
Nate & Niko
Nate Grimes is stressed in the office and needs a little something to unwind. There's no better way for stress relief than to have the newest office boy, Niko Reeves, come to his office to service his hole. Niko wants to impress his boss so he does as he's told and crawls into the office naked on all fours. Nate doesn't want to waste time during business hours so he bends over and cuts to the chase. 'Eat my ass,' Nate commands, and Niko happily complies. Niko gets in deep with his tongue to open his boss up and after a nice long rim session, Nate bends over to take all five of Niko's fingers. Niko's hand goes all the way in, handballing his horny boss wrist deep as Nate demands even more. Niko lubes up again and alternates both hands in and out as he stretches Nate's sloppy hole to the absolute limit. Nate needs it deeper and has Niko put his arm on the desk so Nate can ride it. Nate slides his asshole around Niko's fist and rides it up and down until he's ready for Niko to finish him off. Nate lies back on his desk and has Niko shove his fist in deep one last time. 'Oh fuck, you're gonna make me cum, boy!' Nate yells out as he pumps his load out of his throbbing cock. Niko pulls out his fist and leaves his boss a panting, sticky mess in the office.
Updated on : 02-15-2018

|

Length : 24:11 min

|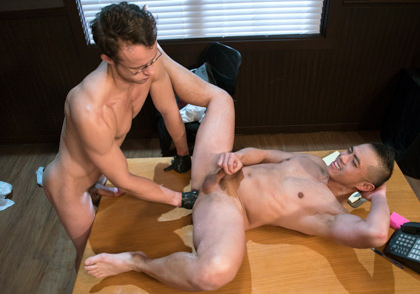 Learn More
Nate and Niko
Office intern, Niko Reeves, wants to impress his boss, Nate Grimes, but when Nate gets aggressive with his pursuit of the intern, Niko gets uncomfortable. Niko, the hopeful employee will do anything to get hired and decides to go along with whatever the boss wants. When Nate finally gets Niko alone in his office, he bends him over the desk to see just how much the intern can handle. Nate gets Niko out of his clothes and shoves his massive cock down Niko's throat. Niko is receptive to the advances, so Nate takes it a bit further and rims Niko's ass to lube it up before shoving his dick inside. Nate fucks Niko over the desk, opening him up and getting him prepared for what he's about to experience next. Nate dips his gloved hands into a vat of lube and inserts his fingers into Niko's soon-to-be-ruined hole. He works on the intern to get his ass nice and loosened up, starting slowly at first and quickly working his fist in wrist deep. Nate loves the feeling of a gaping tight ass and keeps up the pace as he stretches Niko to the max. After getting his hole absolutely wrecked, Niko needs to blast a load. He lies back on the desk, and with his boss's fist still planted deep in his ass, Niko lets loose and unleashes a geyser of jizz to cap off his newest office duties.
Updated on : 03-15-2018

|

Length : 24:49 min

|