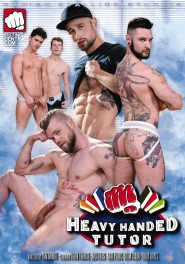 Heavy Handed Tutor
Starring Devin Franco, Drew Dixon, Jace Eros, Mike Panic, Teddy Bryce
Updated

09-27-2018

|

Views

1544

|

Length 01:42:22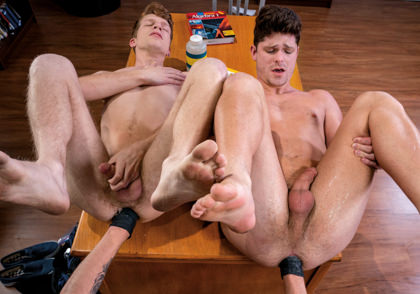 Learn More
Heavy Handed Tutor
Classmates Jace Eros and Devin Franco are trying to study in the school library, but Drew Dixon is being a distraction. After throwing paper at them and keeping them from their school work, Drew walks over to their table with his hard, uncut cock sticking out of his jeans. Devin is the first to take the bait and gets to work sucking Drew's fat fuck stick. Jace is close behind when he joins in on the fun and the two hunks take turns getting Drew's meat slid down their throats. Drew is eager for a lot more than a sopping wet hummer when he bends the students over and pulls down their pants to eat their perfect asses. He licks both of their butts to get them opened up before he slams his cock deep into Devin's crack. He bangs the eager stud balls deep before he moves onto Jace's tight ass next. Drew's giant, hairy cock fills Jace to the brim but Drew knows he can stretch them even further. Gearing up with gloves, Drew dips in some lube and bends Jace and Devin over again to slip a fist in each of the horny studs. He continues the fisting assault on their gaping assholes until Devin blasts a creamy load all over his stomach. The sight of Devin climaxing makes Jace blow his own load when Drew pulls his fists out of their asses and declares that he's ready for round two.
Updated on : 08-02-2018

|

Length : 26:14 min

|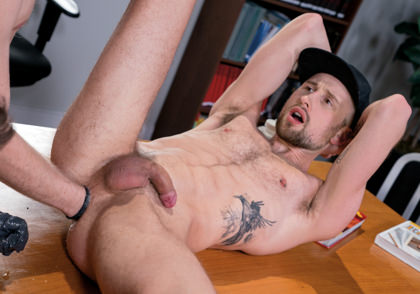 Learn More
Heavy Handed Tutor
Jace Eros, Drew Dixon & Devin Franco are back at it in the school library when Drew leans Jace back to suck his thick cock. Devin sees an opportunity to eat Drew's succulent ass and takes the lead with getting Drew ready to receive a hard slam from Jace's dick deep into his hole. Jace thrusts away until Devin decides that Drew needs something a bit bigger in his ass. Devin throws on his gloves and starts working his fingers into Drew's tight end. Jace joins the mix and sticks his fist deep into Drew as the stretched out stud grunts and groans with each plunge. Jace and Devin make a good team and alternate fists on Drew until his hole is blown out and sore. Devin and Jace don't hold back and keep alternating hands into Drew. Drew wants control and sits on Devin's fist to ride it as he sucks on Jace's big cock. Sliding up and down on the fist and working Devin deeper and deeper into his wrecked hole, Drew strives for maximum penetration as he continues to suck on Jace. The diabolical duo keep up the good work getting Drew ready to blow his load as they continue fist punching his asshole. Finally, their hard work pays off when Drew rewards them both with a shared load directly to their warm mouths.
Updated on : 08-30-2018

|

Length : 26:59 min

|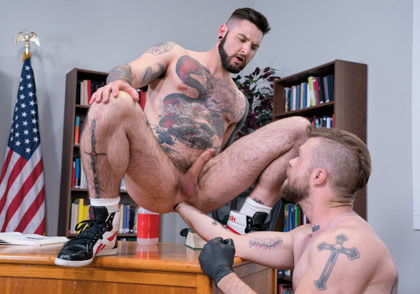 Learn More
Heavy Handed Tutor
Teddy Bryce and Mike Panic are studying for a big college exam, but Mike can't concentrate on anything but Teddy's hot ass. With Teddy's back turned to him, Mike pulls out his dick and starts beating off. When Teddy sees Mike with his dick in his hand, he can't help but reach back and give it a few tugs. Teddy gets the action going by taking it to the next level when he opens his mouth wide to suck on Mike's throbbing cock. Mike loves all the attention but needs a quick taste of Teddy's meat himself before he bends the tatted stud around and slides his cock deep into his study buddy. He pumps away, thrusting in deep to open Teddy up even further. Mike loves his dick planted deep inside of Teddy, but it's time to stretch him as far as he'll go. Mike pulls his gloves and grease out of his book bag and slips his hand deep into Teddy's fuzzy hole. Mike breaches his classmate's threshold before Teddy takes over and rides Mike's arm. Teddy gets further than Mike's wrist and even makes it midway down his arm as he jacks his rod and begs to cum. 'Not yet,' Mike commands, and keeps working Teddy's big gaping hole. Finally, when Mike is ready to let Teddy cum, he jacks his buddy off with his free hand while keeping the other firmly planted up his ass.
Updated on : 09-27-2018

|

Length : 25:57 min

|